Measure twice and cut once. It may sound like a simple expression, but this is in experience pretty much the foundation of creating marketing campaigns. If you need to create a new or better workflow for your campaigns, read on and learn my inside tips and tricks to getting your campaign live on time and with no errors.
Having decided on a workflow for creating effective marketing campaigns is not only important for a single campaign. Once a workflow is in place, it may become the one to follow of any type of your marketing processes. From a single newsletter to a huge omnichannel campaign.
Why improve a workflow?
The advantage of a great workflow is two-sided. First and foremost it will save you time. This will make any Executive happy, as it saves time and thus, money. It may sound like the 'Measure twice and cut one' approach will take up more of your time than the 'Measure once and cut away', but in the end, a lot of time can be wasted with ongoing corrections of a campaign or even starting all over due to too many errors or misunderstandings.
The second benefit of a tight workflow is the chance to oversee the process. You will be able to constantly track how far a specific campaign has come along. With enough knowledge about the pace of your team, it will even allow you to address scheduling issues before planning the next deadline. This should also allow you to avoid issues with last minute changes before a bigger send-out of your campaign.
Map out your Campaign
So how do you get started? The first part to any campaign is to map it out. You may already have a general brief of your campaign, but in order to move ahead with more specific tasks your brief needs to be really fleshed out. This include listing anything from required content and data, deadlines, which staff to perform the listed tasks as well as the overall goals of your campaign.
Having a constant idea of the bigger lines of your campaign will help you and your team keep focus on the important part of the configuration, rather than getting stuck in minor details.
Something to think about: Does it really matter if the signature of your email is 11 or 12 px big, if the majority of users will click the Call-To-Action before ever reaching the bottom of the email?
Time is also a big factor in this planning. Assigning tasks to your team allows you to get an overview of the work required to create a campaign. Make sure each team member can verify they will be able to complete the task in within the timeframe.
And lastly, your plan should always be compared to the expected outcome of the campaign. How many users do you expect to reach? How many leads or closings do you expect to get? Is this campaign really worth the time? If not, could it be simplified to save time but have the overall same effect?
Get ALL the content
Most people working with content for Marketing knows this feeling: "Here is the text and some of the links. You will get the images and the rest of the links next week". While there is sometimes there is no way around this, always try to get as much as the content ready, before setting it up.
Having all the content in place before the configuration starts, allows you to save time having to re-open and edit communications, and it prevents the risk of a campaign being launched with missing content because it was never delivered and you forgot to check up on it.
Also, try to note what type of content is required for different types of communication.
Let's use an Email as an example. Most people would think that the list of content needed for an email looks like the one to the left. However, most email systems will let you change a lot of variables. Have you for instance considered to switch up the sender name or text of your call to action button to match your campaign?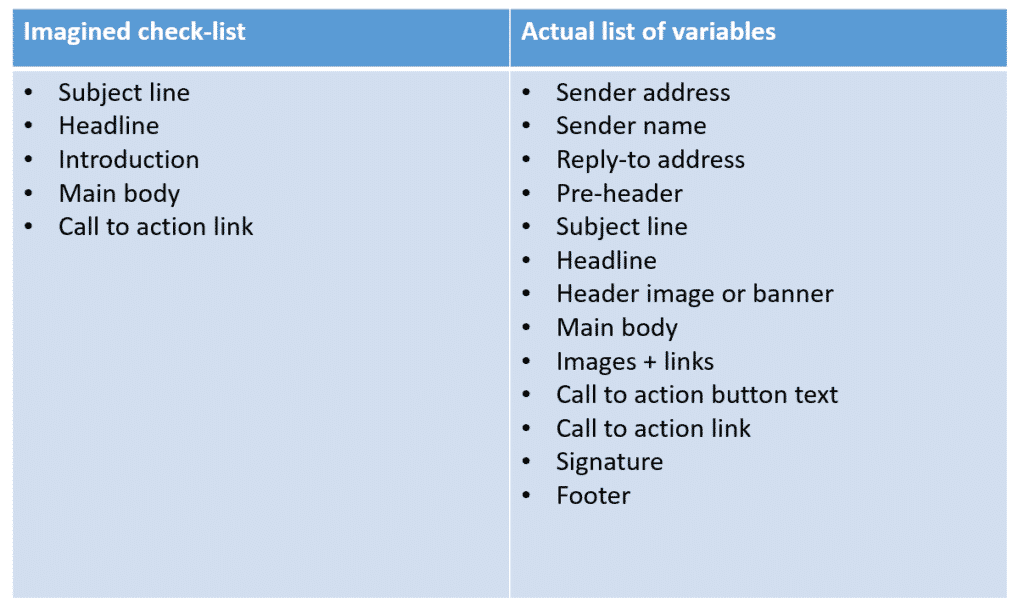 While some of these parameters may be the same across different campaigns, in my experience, it's a good idea to consider the benefit of changing these from time to time.
Who are you sending to?
Marketing campaigns comes in all shapes and sizes, but to me, knowing your audience is half the battle, and personalized emails will always have a much bigger effect than general newsletters. (Kilde/facts?) When creating a campaign, make sure you know the target audience and note how much you know about them. The more you know, the more you can personalize your communication.
Set it all up
This is the 'Cut once' part of the workflow. If all the planning is done efficiently, the actual setup should be a breeze. Make sure to note down any issues or surprises you may have during this step, as it can become valuable information for future campaigns. If the actual configuration is done by a team of people, make sure the internal communication is clear, so everybody knows what has been done, and what is still left to be set up.
Time to send-out?
Not yet. Although all this planning should allow you to create your campaign in one go, you can never be too careful. Always test your entire campaign before any kind of send-out. Think of the many things that could go wrong. From links not working, typos, images being displayed or even non-intended users in your target group.

The more complicated a campaign, the more you need to test. So remember: Test it, test it again, and if in doubt – test it a third time. A little extra time at this stage can save you a headache later on.
Push the button
With everything tested, your campaign is ready. Yay! The moment you and your team have been waiting for. Make sure the campaign is scheduled for the desired go live date and have a cup of coffee. You deserved it.
How did you do?
After you campaign is live and out there, then comes the interesting part. You can now see the fruit of your labour. Make sure to report on your campaign to gather important insights into your audience and the effectiveness of your campaign. Did it live up to the expectations? If not, where did you seem to lose more users than expected? Even a less effective campaign can help you improve for the next one. Stand back for clichée: Rome was not built in a day, and neither is the perfect marketing campaign.
Evaluate and repeat
With your reporting done, you can start all over with a new campaign, new knowledge and a new deadline. While it might sound tedious, the process of making effective marketing campaigns is a constant learning curve. But once you see those numbers of clicks or email opens rise, you know it was worth it!
If you are looking for an all-in-one marketing software to support your future marketing campaigns, Agillic support every channel from Email, Webpages, SMS and direct mail. Create simple or intricate omnichannel marketing campaigns and show personalized recommendations to your users based on the centralized data.
Click the button below to request a demo, and we I would be happy to tell you more about the opportunities that Agillic offers!