Partner of the Dialog Conference 2016
The annual Dialog Conference is the biggest of its kind in Scandinavia, featuring a large number of experts and speakers. At Agillic we are happy to both be partnering, participating and hosting a roundtable event during the 3,5 days of knowledge-sharing and networking. But why are we looking so much forward to this event? Read on and we will tell you why you don´t want to miss out on this one.
On the 28 – 31 august, the yearly "Dialog Konferansen" takes place in beautiful surroundings at the Strömstad Spa in in the Swedish Skjærgård.  The conference has been hosted by Bring Norway for the last 20 years and is the biggest of its kind in Scandinavia, with 58 unique experts and speakers representing 45 international and Scandinavian brands. The main focus is in Digital Marketing, CMR and CX, but features a wide variety of workshops, talks and roundtable events dedicated to various aspects of modern and innovative marketing.  Apart from being a great opportunity for marketeers to gain insight into front-line technologies and best practices cases, it is also a chance for professionals to network and socialize.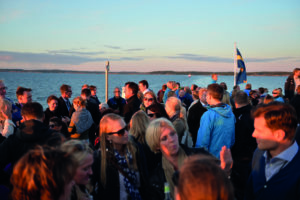 One of the things that sets this conference apart from other professional events is, like mentioned above, the dedication of the organizers to create an atmosphere that allows for more than just a business-minded approach. The social aspect is an important part of the program during the conference; including boat rides in the Skjærgård followed by sunset dinners on the small islands around Strömstad, cocktail hours and outside lounge areas to relax after the official program ends. Hosted at the Strömstad Spa, the Dialog conference are able to host 500 attendees, offering transport from pick-up points in both Denmark and Norway.
At Agillic we are more than happy to contribute to the official program with the workshop "Omnichannel – Are you ahead or behind the pack?" with Sune Porsborg Børsen, Senior Strategy Consultant at Agillic, former CRM Manager in Hi3G and Rasmus Houlind, Chief Strategy Officer in Agillic, and author of the book on Omnichannel Marketing: "Make it all about me and I'll buy it!"
The workshop takes place on Monday the 29th from 9 am to 11.45 am in Room 5, and gives an introduction to Omnichannel Marketing as well as taking a look at some of the most successful brands in applying it to keep the customer in focus. Furthermore, the workshop is a great chance to explore whether or not your brand is Omnichannel-ready with the introduction and guide to the Omnichannel Survey.
We look forward to partake in Dialog Konferansen 2016 and we hope to see you there! Want to get more information about the conference? Simply go to the website to register, check out the program and learn more about the speakers and workshops.
Want to learn more about Omnichannel Marketing? Click here to read on.